bashtop
bashtopはCPU、メモリ、ディスク、ネットワーク、プロセス情報を表示するリソースモニター。
特徴は以下のとおり。
Easy to use, with a game inspired menu system.
Fast and "mostly" responsive UI with UP, DOWN keys process selection.
Function for showing detailed stats for selected process.
Ability to filter processes.
Easy switching between sorting options.
Send SIGTERM, SIGKILL, SIGINT to selected process.
UI menu for changing all config file options.
Auto scaling graph for network usage.
Shows message in menu if new version is available
インストール
README.mdによるとBash 5.0がオススメということなので、まずはBash 5.0をインストールする。
bash (v4.4 or later) Script functionality will most probably break with earlier versions. Bash version 5 is highly recommended to make use of $EPOCHREALTIME variable instead of a lot of external date command calls.
以下のような感じでインストール。
$ curl -LO http://ftp.gnu.org/gnu/bash/bash-5.0.tar.gz
$ tar zxvf bash-5.0.tar.gz
$ cd bash-5.0
$ CC=cc ./configure
$ make
$ sudo make install
バージョンを確認。
$ bash --version
GNU bash, version 5.0.0(1)-release (x86_64-pc-linux-gnu)
Copyright (C) 2019 Free Software Foundation, Inc.
License GPLv3+: GNU GPL version 3 or later <http://gnu.org/licenses/gpl.html>

This is free software; you are free to change and redistribute it.
There is NO WARRANTY, to the extent permitted by law.
bashtopはREADME.mdのインストール方法によるとバイナリのダウンロードやmakeでインストールできる。
$ curl -LO https://github.com/aristocratos/bashtop/archive/v0.8.24.tar.gz
$ tar zxvf v0.8.24.tar.gz
$ sudo cp bashtop-0.8.24/bashtop /usr/local/bin
$ bashtop
なお、Bashのバージョンが4.4未満だと下記メッセージが表示され起動できない。
$ bashtop
ERROR: Bash 4.4 or later is required (you are using Bash 4.2).
       Consider upgrading your distribution to get a more recent Bash version.
使い方
bashtopコマンドを実行すると起動できる。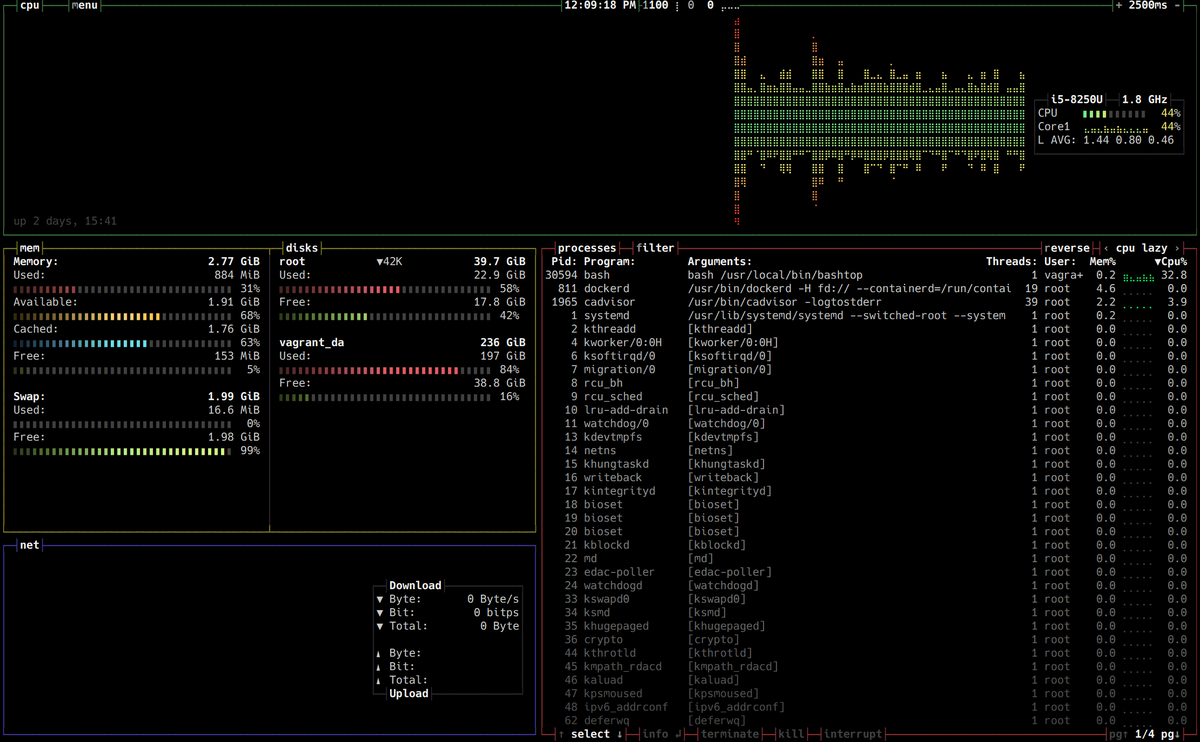 hキーを押すとヘルプ画面が表示される(ヘルプ画面を閉じるにはqキー)。
oキーを押すとオプション画面が表示される。
メイン画面で上下キーによりプロセスを選択してkキーでプロセスをKillすることもできる。
設定ファイルは下記パスにある。
$ cat ~/.config/bashtop/bashtop.cfg
#? Config file for bashtop v. 0.8.24

#* Color theme, looks for a .theme file in "$HOME/.config/bashtop/themes", "Default" for builtin default theme
color_theme="Default"

#* Update time in milliseconds, increases automatically if set below internal loops processing time, recommended 2000 ms or above for better sample times for graphs
update_ms="2500"

#* Processes sorting, "pid" "program" "arguments" "threads" "user" "memory" "cpu lazy" "cpu responsive" "tree"
#* "cpu lazy" updates sorting over time, "cpu responsive" updates sorting directly at a cpu usage cost
proc_sorting="cpu lazy"

#* Reverse sorting order, "true" or "false"
proc_reversed="false"

#* Check cpu temperature, only works if "sensors" command is available and have values for "Package" and "Core"
check_temp="false"

#* Draw a clock at top of screen, formatting according to strftime, empty string to disable
draw_clock="%X"

#* Update main ui when menus are showing, set this to false if the menus is flickering too much for comfort
background_update="true"

#* Custom cpu model name, empty string to disable
custom_cpu_name=""

#* Enable error logging to "$HOME/.config/bashtop/error.log", "true" or "false"
error_logging="true"

#* Show color gradient in process list, "true" or "false"
proc_gradient="true"

#* If process cpu usage should be of the core it's running on or usage of the total available cpu power
proc_per_core="false"

#* Optional filter for shown disks, should be names of mountpoints, "root" replaces "/", separate multiple values with space
disks_filter=""
例えばカラーテーマを変更したい場合は、以下のカラーテーマの中からcolor_theme="monokai"のように指定すれば変更できる。
$ ls  ~/.config/bashtop/themes
default_black.theme  flat-remix-light.theme  flat-remix.theme  greyscale.theme  gruvbox_dark.theme  monokai_nobg.theme  monokai.theme  solarized_dark.theme  whiteout.theme